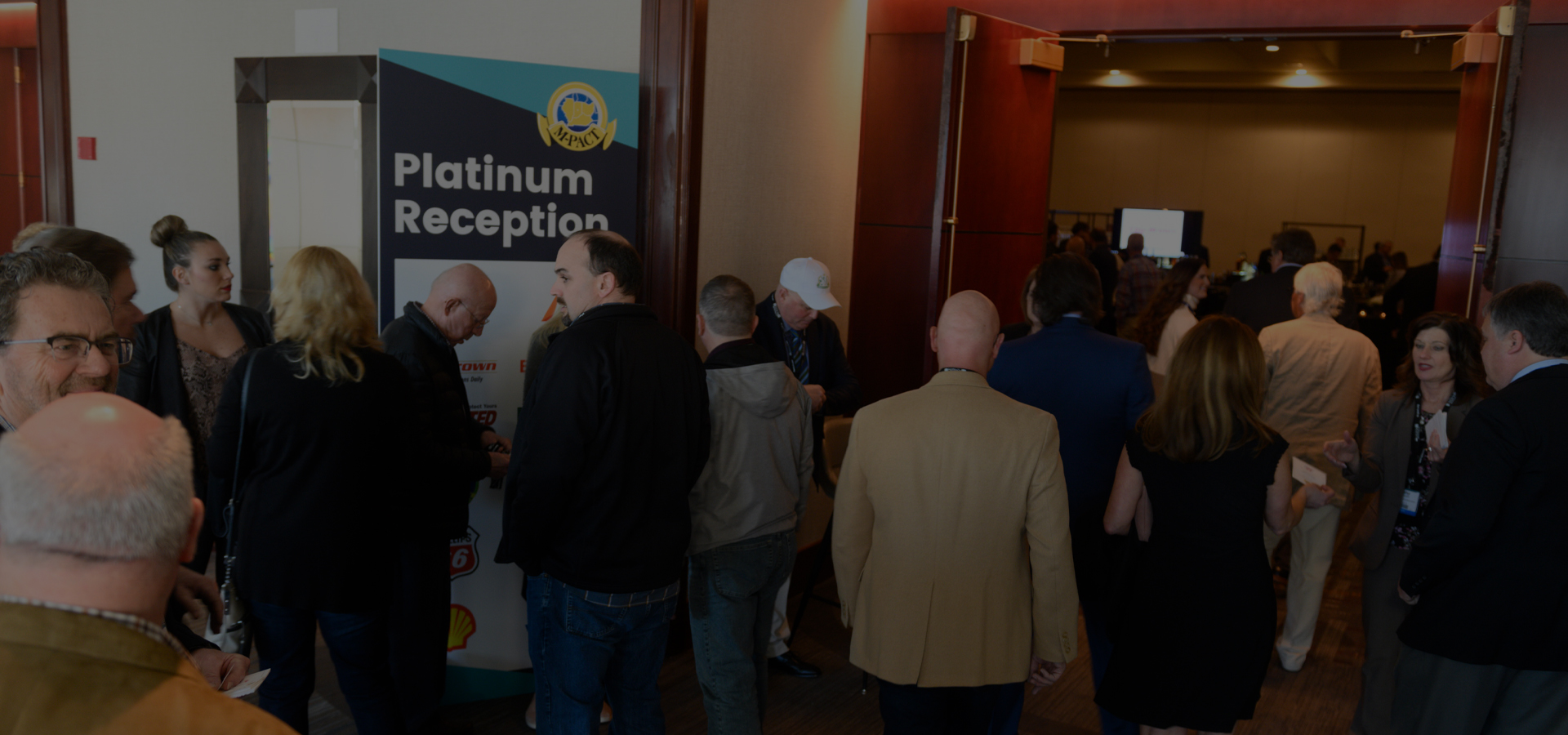 Sponsor & Advertise
SPONSOR OPPORTUNITES
SPONSOR GUIDE
Make a lasting impression and enjoy a bigger return on your trade show investment when you become an M-PACT 2023 Sponsor.
M-PACT provides unlimited opportunities for different budgets and choices. From the start of the Kick-off Event to the final minute of the show, there are many opportunities for your company to sponsor during the M-PACT Show. This year provides more ways to be recognized at the premiere fuel and energy tradeshow of the Midwest with the new Sponsor+ option. With this, you can enjoy tier-level benefits plus a discounted elite sponsorship opportunity. This allows your company to have added exposure in a cost-efficient way.
Sponsor+ was designed to help our sponsors gain more exposure with their sponsorship dollars. Sponsor+ selections will be on a first-come, first-serve basis and payment must be made within 30 days. Elite opportunities will be unavailable for individual purchase until February 1, 2023. This allows ample time to take advantage of the Sponsor+ option and increase your brand awareness at M-PACT 2023.
View Opportunities
M-PACT 2023 Sponsors
.
Convention Center Sponsors
Stand out from the crowd with a M-PACT Show Guide advertisement!

Guests refer to this flagship publication time again, which means an even bigger return on your marketing investment. With several options of ad sizing, there is space and budget options that can work for anyone.

1/2 Page Horizontal (6" x 4.406")

1/2 Page Vertical (2.917" x 9")

1/4 Page Block (2.917" x 4.406")

1/8 Page Block (2.917" x 2.109")

Digital Landing Page (513p x 738p)

e-Skyscraper (160p x 600p)

*Ad sales for the M-PACT 2023 Show Guide closed January 19, 2023

Be a part of the newly designed M-PACT.org website!

This new opportunity allows advertisers the ability to reach potential customers digitally with the help of the m-pact.org website. M-PACT sends weekly emails, directing nearly 3,000 subscribers to m-pact.org. Along with that, M-PACT social media posts reach hundreds of followers each week.

Leaderboard (970 pixels x 90 pixels)

Banner (728 pixels x 90 pixels)

Vertical Banner (300 pixels x 480 pixels)

Small Rectangle (300 pixels x 250 pixels)

*Each position is available for a 3-month term. M-PACT.org website pages shown are not accurate to final published website design. JPG, JPEG, GIF, PNG, SVG and HTML files accepted. Graphics should have a minimum 72 DPI (dots per inch) and be in RGB color. Ad artwork due one week before contracted advertisement term starts.